The many words of Russell Dickerson
Teller of stories
Nautilus pilot
Artist of fine works & illustrations
Trapper of Manticores
Designer of print and media
Liopleurodon skull grinder
63rd man on the moon (estimated)
Secret Lair: Shell Beach
Ready for Commissions!
Need some art, design, or writing? I am open to commissions of all kinds, please don't hesitate to contact me on one of my social networks below.

The origins of my 20-year art career were not that different from many other artists, learning the craft by seeking out inspirational artworks, and it is something I continue to do. Since I also enjoy writing, I took the advice from a friend that I should combine my writing skills with my desire to learn about art, and I began blogging about artistic masterpieces in the early 2000s. One of those blogs was about the famous painting, "The Icebergs" by Frederic Edwin Church. I learned a lot from the tiny image of the painting I found online, but I realized only later that seeing the original in a museum would be a far superior experience.… Read the rest

I currently interview the cover artists for Apex Magazine each month.
Visit my latest interviews on the Apex Website.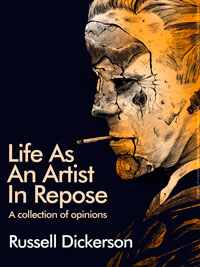 My nonfiction ebook collection of the first two years of my Apex Book Company blogs, Life As An Artist In Repose, is available for purchase on Amazon, Barnes and Noble, or Drive Thru Comics.
The ebook is filled with "life as an artist" style articles, click here to pick it up today!