Over the course of the last two years, from January 2010 to present, I've been writing monthly articles for the Apex Book Company. I've now compiled those two years of articles into an ebook collection, called Life As An Artist In Repose, now available for purchase on Amazon here.
The idea behind my articles for Apex has always been the "life as an artist" style articles. What I see as an artist in the publication industry, how I myself am treated as an artist, and overall what it's like to live as I do.
Collected in the ebook are the first two years of the articles, along with a couple that I didn't send in but still needed a nice, cozy home. They are collected chronologically, so they might slightly jump around a little as far as topic.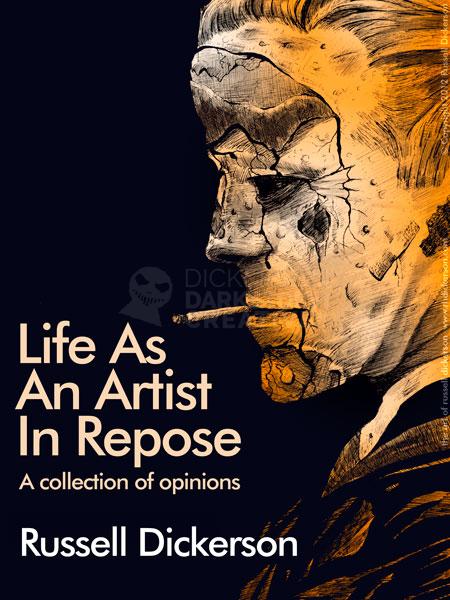 There is a running list of my articles on my Publications/Shows page, but here are some of them. That should give you a decent idea of what is in the book:
My God, What a Stupid Looking Cover
Awful book covers, so many good artists that you shouldn't do that
WTF? Really? You can't just tell me who the artist is?
posting a great cover online and never giving credit to the artist
Sure you can steal from me! Art? Sure! First born? Why not?
Using my art for other things without my permission
Why the hell would I help you? You'll steal all my ideas!
it's ok to help others, to tell them all about your process
Here at the end of all things
Arrogance and being good to others instead of an "artiste"
Life, liberty, and the pursuit of—Hey! Why aren't you mowing the lawn?
Balancing creativity with real life, using life as a source of art
There are quite a few more articles, and I've added images throughout the ebook as well.
If you want a taste first, check out my current articles on the Apex website here. Two of them (currently) are in the ebook, and new ones show up there monthly.
I'm also interested in any opinions you have on the book, good, bad, or indifferent. Find me at my social networks (up in the header there), and let me have it.