I think it's important as an artist to look at various kinds of art each day. Just as it is important for graphic designers, filmmakers, authors, and anyone with a creative side, seeing the works of others can help a creative person learn more about what they do.
In that respect, I used to write long articles (here!) about different pieces of art. I learned from writing them, as much as I think others did as well when they commented on the pieces themselves. Over time, that activity was replaced with the quieter activities of resharing what others posted, or of posting to my Pinterest "Inspiration" galleries.
I still think that the Pinterest boards have their place, especially for the quickness of adding so many pieces. But I've wanted to write a lot more, and, as they say, you should write what you love. I love art, so I think it's time to get back to writing these articles.
If you haven't read them before, I simply find a piece of art that I like and comment on it. I'm no art historian, or art snob, or even critic. I just comment on how it affects me, and I hope you'll join in the conversation as well.
On to the art.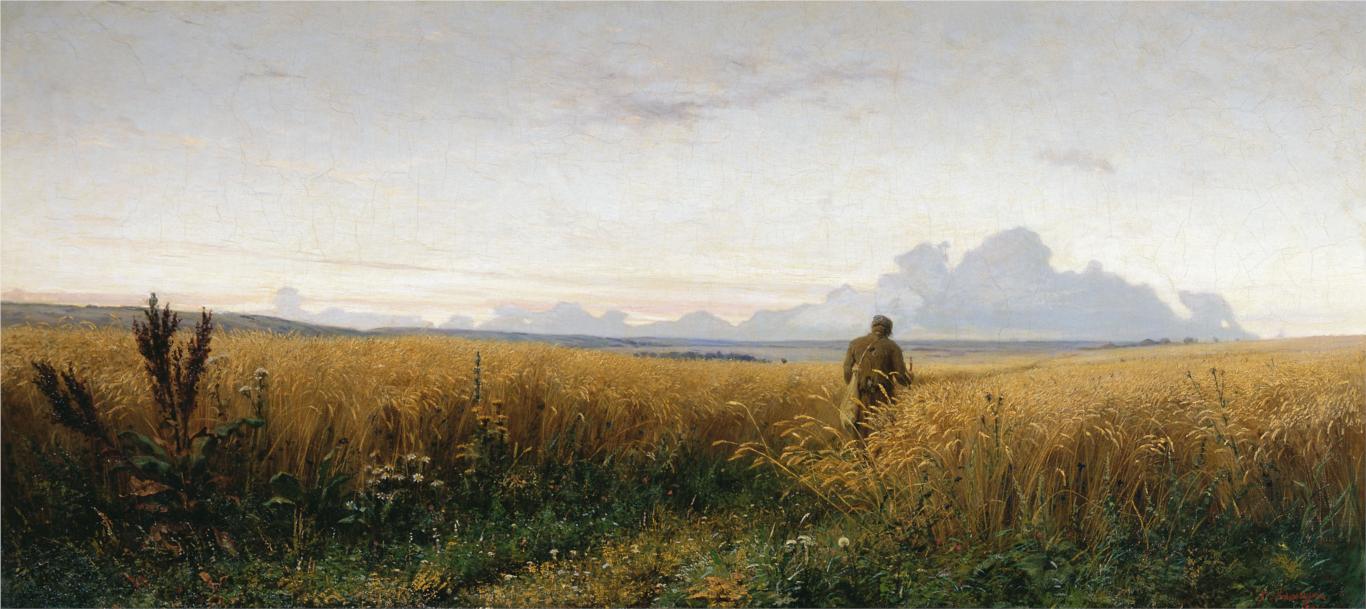 This is The Road in the Rye, by Grigoriy Myasoyedov (1881, oil on canvas, click on it for a larger version).
For me, this could really be an image of my last few years. It's been a bit lonely for me, and I think this image could be the loneliest image I've seen. There's a strong sense of this small man, alone in this huge landscape with nothing but his thoughts.
There's the obvious path, wide here and fading into the distance. Myasoyedov leads your eye along the path, along the journey with this lonely man. In art, there's always the persistent idea that you want to control the viewer to whatever extent you can. To that end, artists use lines, features, even colors, to bring your eye where they want it to be.
Myasoyedov uses the change in tones from the darker man amongst the yellowed fields. He also uses a darker sky at the top, and the darkened tones in the foreground leading into a brighter central area. Your eye is looking for the spot that contrasts, that is lighter than the rest, and the darker figure stands out.
He also uses lines and shapes to pull your eye into the work. The path, of course, is a natural way to do so. But the far horizon dips down to meet our figure, then rises again on the other side. The cloud behind the figure, almost alone in the sky, brings your eye to it's shape against the brighter sky.
It a great example of where a subdued image can still offer a lot of emotion. Is it a reaper, out to trim the fields? Is the farmer merely surveying his land? Is it a soldier, taking the long journey home from war?
The fact that the image raises the questions might be what I like about it the most. Myasoyedov isn't just telling you what to think, or showing you everything. He's given us a scene, and it's designed for us to explore it and find our own answers.
That, for me, is what the best pieces of art do. It's not what they show, it's how they can bring you on the journey with them.