The many words of Russell Dickerson
Teller of stories
Nautilus pilot
Artist of fine works & illustrations
Trapper of Manticores
Designer of print and media
Liopleurodon skull grinder
63rd man on the moon (estimated)
Secret Lair: Shell Beach
Ready for Commissions!
Need some art, design, or writing? I am open to commissions of all kinds, please don't hesitate to contact me on one of my social networks below.

I've thought about it, and not only are these posts fun but they help me grow as an artist.  In it, I pick an image from past art and give out my thoughts on it.  I'm not really an expert (though I have actually had the classes), and what I say is merely how I feel about the work.
Please let me know your thoughts on the art or other comments, and I will also be posting this on my MySpace blog as well. So, without further ado, here is the first of the new incarnation of This Week's Art.… Read the rest
If things go according to plan, I'll have the vast majority of current projects off my plate once and for all within a couple of weeks. That includes a Flash game, a programming gig (ick), and my very first sequential arc.
I'm just about done with the short seven page graphic story, one which I'm past deadline on. It's been a real challenge, but in the end it might help me find who I really am as an artist. The story uses two different styles, an illustrated reality for what's currently happening, and a more abstract/digital style for the flashbacks. It's been fun, but now I really know what I have to work on to get better at this.… Read the rest
As an avid comic reader, it would be difficult not to hear of Neil Gaiman's stories. Somehow, though, with the hundreds of comics that I have (possibly thousands, but too hard to count in a box under the bed), I have yet to pick up a comic by Gaiman. After reading his latest novel American Gods, I'll be rethinking that decision. Through the small press world I had heard of Gaiman's other pastime, novels. Knowing of his work from the comic world, I had been looking for a book by him.… Read the rest

I currently interview the cover artists for Apex Magazine each month.
Visit my latest interviews on the Apex Website.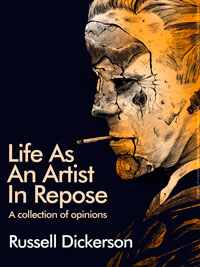 My nonfiction ebook collection of the first two years of my Apex Book Company blogs, Life As An Artist In Repose, is available for purchase on Amazon, Barnes and Noble, or Drive Thru Comics.
The ebook is filled with "life as an artist" style articles, click here to pick it up today!