This is Franz Von Stuck's Sin (1893, Oil on canvas, 35″ x 21″), which may get my vote for having perhaps the most accurate title of an art piece I've seen.
I like the color choices and palette here that Von Stuck used, or rather a lack thereof.  He keeps the colors simple, nearly a duotone.  What he does use for color throughout, due to it's similarity, is a feeling of almost looking at the woman's skin even when you're not.  The colors around the outside are similar in shade and tone to the woman's body, and it's a temptation woven into the image. Even when you aren't taking a look at her body, you still get the sense you're looking into something seductive or even dark.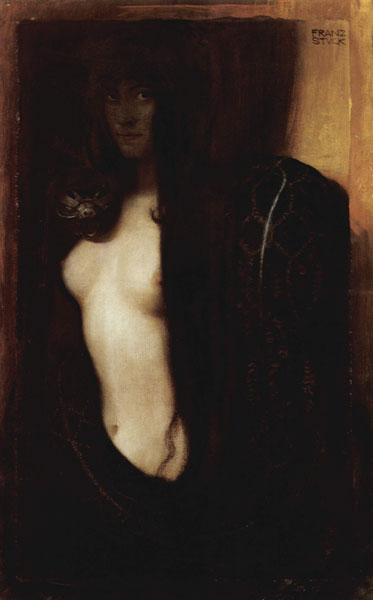 Von Stuck uses the composition well, though it's a simple piece. In many pieces, the artist (any artist) would be tempted to make the woman's head or even the snake's head be the center of attention. The higher contrast would normally be there with the faces, and it would be set in a more accessible place.  But Von Stuck's idea held simply to the inner thoughts of man, that when it comes to sin, you're going to look at the body and damn the consequences.  By placing the more ominous, even the more intelligent parts, to the darkness, and highlighting so brightly the body, the viewer is led to give into the very title of the piece.
The menacing snake (the extra bright closeup to the right) would be a bit much in some scenes, but I think in this one Von Stuck did well by placing it in the shadows.  The woman's face is still of the temptress, but the snake's face is all about evil.
I think that in this piece, Von Stuck has done something that can be very difficult in art: to (nearly) perfectly capture a human emotion.  You (ok, mostly men here I'd bet) are drawn right to woman's body, to the promise of lust, and to the seduction in the darkness of her face.  Von Stuck made it difficult to look away, even with the darkness and the evil so obviously present.  In that effect, he captured sin perfectly.  You know it's wrong, but not even the snake's going to stop you.
Opinions?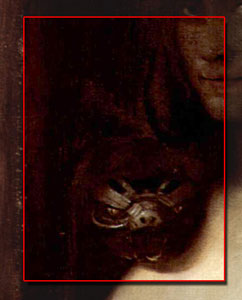 Russ