The many words of Russell Dickerson
Teller of stories
Nautilus pilot
Artist of fine works & illustrations
Trapper of Manticores
Designer of print and media
Liopleurodon skull grinder
63rd man on the moon (estimated)
Secret Lair: Shell Beach
My monthly interviews
Every month, I interview the cover artists for the award-winning Apex Magazine. See those interviews here on the Apex site.
You can find me literally everywhere.
Please don't hesitate to contact me on one of my social networks below.
This Week's Art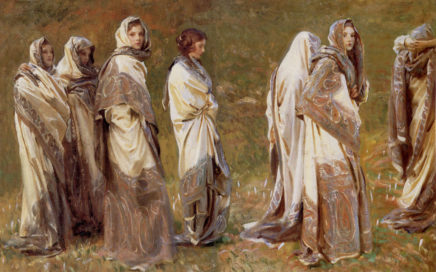 As I was looking at John Singer Sargent's work, in anticipation of writing today's article about his wonderful "Cashmere" painting below, I started looking at many of his other works. Now, that's not at all unusual, I find myself leaping down the rabbit hole when it comes to art most of the time, and looking at Sargent's art definitely piques my interest.
As I was admiring his detailed, and yet impressionistic, strokes, I started to notice differences in how Sargent dealt with a procession of people. "Cashmere" has been a favorite of mine for a long time, but seeing his techniques and ideas evolve over time became more interesting than just another discussion of the cool art of the moment.… Read the rest
Continue reading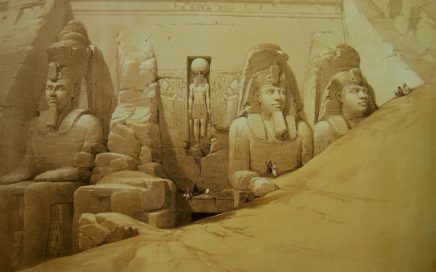 There are certainly artistic sways to and fro, but his accuracy is truly astonishing. Roberts not only captured the sense of being there, but accurately captured the details as well. He used time honored tricks for showing scale as well, such as the fine folks shown in the close-up below. They don't seem very interested in being so close to these epic statues, I guess that's not the reaction I would have personally.
Continue reading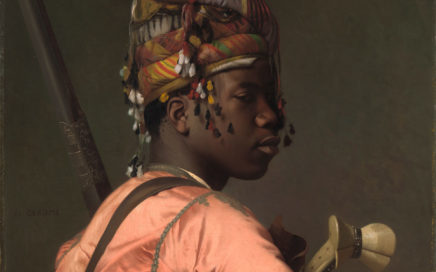 When I talk about art, and believe me that's pretty much every day of my life, I often touch on the things that I really love about particular pieces. Sometimes it's composition, or texture, even just a color within the piece. Sometimes I get very technical with it, often it probably comes across more like, "I dun like it lots."
But sometimes there are those few pieces where there is something more, something that exceeds what is normally given. Take Bashi Bazouk for example. Portraits are a dime a dozen, and much like landscape watercolors here in the western U.S.… Read the rest
Continue reading






Join me on the "This Week's Art" email newsletter
This newsletter is about art, and the way I see it. That occasionally includes horror and boobs, and neoclassical ideas of architecture and free will. Choose at your own peril.
Also, it might show up twice a week.
Education
Bachelor of Science in Communication
Colorado State University
Awards of Completion:
Applying Leadership & Communication Strategies For The Global Marketplace
Effective Communication In The 21st Century
Knowledge and Experience:
Proposal, article, technical, and academic writing
Social media and community involvement
Intercultural and diversity communications
Strategic communication and ethics
Leadership and team dynamics
Writing and revise support documents
Create across multiple media platforms
Research and verify facts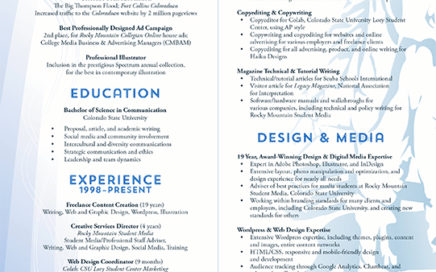 Below is my current resume as of August 2017. I have nearly 20 years of experience behind me across many industries and types of projects, and that experience continues to change. I try to update my resume often, not only for different positions but in favor of different aspects of my expertise. My full resume is a much longer document with a curriculum vitae, and this one is designed to be an overview of my long career and expertise.
My full resume is a much longer document with a curriculum vitae, and this one is designed to be an overview of my long career and expertise.… Read the rest
Continue reading