We're back on a single piece of art this week (since I couldn't decide on a different topic), this time it's John Everett Millais' The Blind Girl (Oil on canvas, 1854-1856, 32 1/2″ x 24 1/2″). It's one of those pieces where the title really does impact what you see in the image, or at least makes it clear.
It's an image of duality, of great beauty but of disturbing meaning.  A first glance is a visual feast, showing the beauty of nature, the unusual double rainbow that's hard to come by in real life, and even the beautiful butterfly on the girl's shoulder.  But it's there that you start to realize that the girl in the orange dress can, cruelly, never enjoy the beauty around her. She is blind, and will never know the wonder that it around her.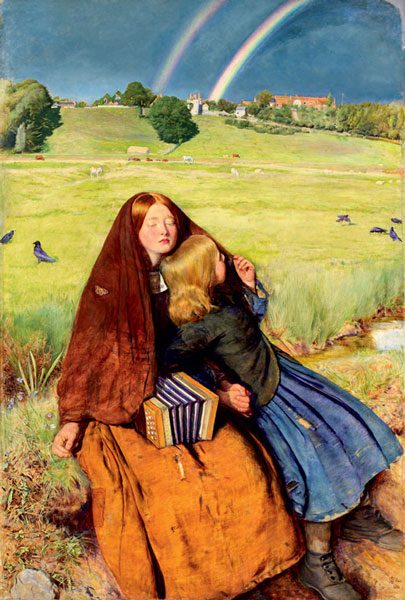 Even the smaller girl in her lap is a cruel twist, as she is fascinated by the environment, alone in her wonder.
Millais really uses a nice color palette and the contrast of the art to set a gorgeous scene.  Bright blue skies, ever flowing fields of green, even the brighter (if worn) blue dress of the smaller girl give such a bright sense to the art that you can't help but think of a perfect day.  Even the blind girl's dress is a soft shade of orange, almost teasing her with the brightness she will never see.
For me, Millais' work always has wonderful detail work, and usually in natural settings. This one is no different, as Millais offers not only great details in the foreground, but a nice, even detail through the background as well. It's not overpowering, but gives a sense of reality to the work.  What works best is that Millais knew where to soften that detail, knowing that the lack of details in the right areas will enhance the piece.
What I like most in the piece is just the idea that a second look at it, with more information, really sets it apart.  Many might just walk right on by it, noting the beauty of it and moving along.  It's only on further thought, on further knowledge, that we find out that sometimes even the most beautiful things can really be dark.
Opinions?
Russ