The many words of Russell Dickerson
Teller of stories
Nautilus pilot
Artist of fine works & illustrations
Trapper of Manticores
Designer of print and media
Liopleurodon skull grinder
63rd man on the moon (estimated)
Secret Lair: Shell Beach
Ready for Commissions!
Need some art, design, or writing? I am open to commissions of all kinds, please don't hesitate to contact me on one of my social networks below.

For my entire life, from the stone ages until now, seemingly, I have been fascinated by the strange and the weird. Growing up, nearly all of the books that I read were about mysterious happenings around the world.
There were no limits on my fascination. UFOs, ghosts, Kaspar Hauser, cryptozoology, strange events and anything else that I could find under the "unexplained" topics were the entrée to my otherwise boring dinner called "life".
My imagination would soar on high, thinking about events like the Devil's Footprints incident in the mid-1800's, in Devon, England.… Read the rest

I currently interview the cover artists for Apex Magazine each month.
Visit my latest interviews on the Apex Website.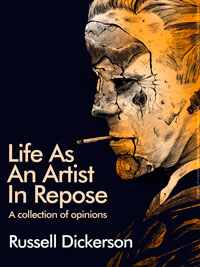 My nonfiction ebook collection of the first two years of my Apex Book Company blogs, Life As An Artist In Repose, is available for purchase on Amazon, Barnes and Noble, or Drive Thru Comics.
The ebook is filled with "life as an artist" style articles, click here to pick it up today!