When I post my "This week's art" articles, I like to have as much information about a piece as I can get. Sometimes, like yesterday's article, the piece is quite popular, and there's lots of information about it. Other times, it seems like only one site has the beautiful art, but won't put any information with it.
Today's piece was like that, hardly any information. But it's a gorgeous piece that I first saw on James Gurney's blog (which you REALLY should be following), and I wanted to feature it here. There just aren't that many references to it online, and it took me a bit to find out what I could.
When I first saw Fortunino Matania's Paulina in the Temple of Isis, it was love at first sight. It's everything I love about art, and it's executed with a brilliance that I can only hope to see in my far flung future.
Here's all of the information about it (since I talked up that information earlier), from a Christie's auction a number of years ago:
Fortunino Matania (Italian, 1881-1963)
Paulina in the Temple of Isis
signed 'F. Matania' (lower left)
pen and grey ink and grey wash heightened with white, unframed
11 x 18 in. (27.9 x 45.8 cm.)
Also, of course, here's the gorgeous image itself. Click on it for a larger version.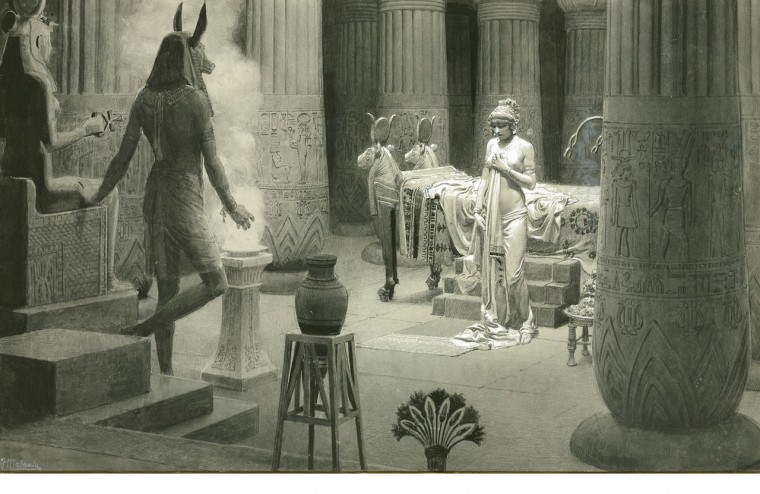 I think it's an extraordinary piece, and literally filled with all of the art things that make me giddy. For starters, I love detailed work, and Matania has a wonderful sense of detail in this piece. Detail can be tricky. Too much, and it's overwhelming to the viewer. But Matania balances the details with the open areas perfectly, allowing the eye simply wander over the scene.
But he focuses your eye right off the bat, on the woman. The high contrast, set in an otherwise grey world, brings your eye right to her. Such high contrast, coupled with her pose and the look on her face, drives up the tension. Something is about to happen here, and we're bearing dramatic witness to it.
The scene tells a story, and Matania frames it as if we were just stopping a film for a moment. It's easy to imagine that the scene will go on, and in that Matania has captured an entire world in his work. It's the mark of a great piece, and master artist, to make the viewer feel like they are really in this other world.